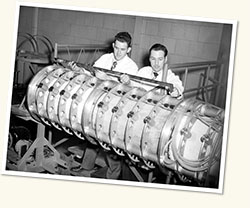 Technical Information
Photographic materials, including prints, lantern slides, glass plate negatives, and transparencies, are scanned on flatbed scanners equipped with transparency units. Production master files are captured at 400, 600, or 1200 ppi, depending on color, condition, and medium, and are saved and stored as uncompressed Tiffs. All monitors and scanners are calibrated utilizing the Monaco EZ Color System. Software employed in post-capture processing consists of Adobe Photoshop (ver. 9), and Equilibrium Debabelizer (ver.5) with which JPEG derivatives for Web display are batch- produced.
Descriptive metadata records are created according to the University of Chicago Library Guidelines for use of the Dublin Core element set (DCMI) in Library digitization projects. The controlled vocabulary terms of each record are drawn from the Getty Art and Architecture Thesaurus, the Library of Congress Name Authority File, the Library of Congress Subject Headings, the United States Geographical Survey, and the Getty Thesaurus of Geographic Names.
The Campus Grid Location designation in descriptive records is an alphanumeric identifier which references the position of Buildings and Ground features on the University's Master Grid Map. For buildings and ground features, which have been demolished, the Photofiles team assigned identifiers to which an "H" was added to denote historical status. Additionally, identifiers were fashioned for existing ground features that had no previous grid number assignments.